Posted: April 15, 2015 at 5:40 am
the.minouette posted a photo:
This is a linocut portrait of Gregor Mendel (1822-1884), scientist and Augustinian friar who posthumously gained fame for establishing many of the rules of heredity, fundamental to modern genetics. By carefully crossbreeeding pea plants and tracing seven characterististics (plant height, pod shape and colour, seed shape and colour, and flower position and colour) he was able to deduce what are now referred to as the laws of Mendelian inheritance. He coined the terms "recessive" and "dominant" traits. Some of his findings are subtlely alluded to in the layout of the pea flowers, like a Punnett square depicting a cross between two pea plants heterozygous for purple and white blossoms. The first edition is a variable run of 8 prints, each 11" by 14" (28 cm by 35.6 cm), on ivory Japanese kozo paper with "chine-collé" white and mauve paper.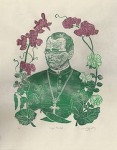 Original post:
Gregor Mendel with his pea plants